Rightly or wrongly, engineers don't have the best reputation for client service among the professions.
Beaton research tells us consulting engineers consistently rank at the bottom in terms of client experience compared to other industries. Our annual-large scale research into client feedback on hundreds of professional services firms, dating back 20 years for the Client Choice Awards, reinforces this perceived gap in service quality.
A disappointing 26 per cent of consulting engineering clients report a "poor client experience" compared to 11 per cent and 12 per cent in law and accounting, respectively.
While over half of law and accounting clients rate their experience a 9 or 10 out of 10, only 29 per cent of consulting engineering clients feel the same way.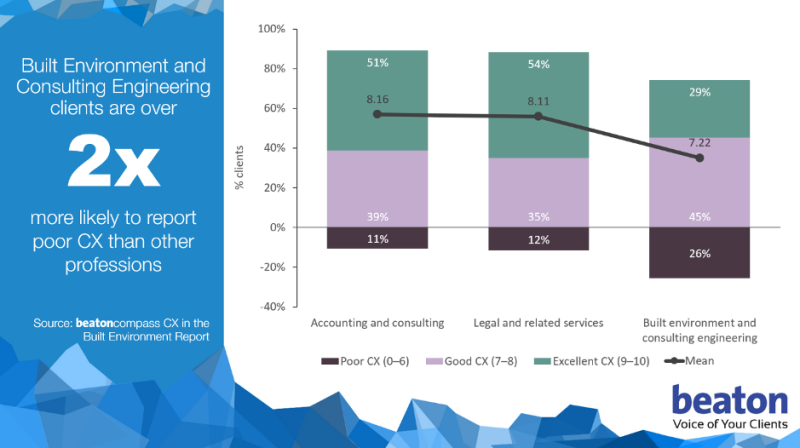 Why? What is it about consulting engineering firms that has created this perception? Why is the client experience relatively poor for clients of consulting engineering firms?
In this post, we draw on the experience of Jon Huxley, Beaton's New Zealand-based partner, and share some of the actionable insights for consulting engineers. Jon's background is in consulting engineering and having spent six years leading business development in global engineering firm Beca he is well qualified and passionate about client experience.
What we know about the state of client experience in consulting engineering firms
Beaton's landmark study on the State of Client Experience in Professional Services found professional services firms in the built and natural environment professions lagged behind those in accounting, management consulting and law in terms of their "maturity" in client experience. Only 32 per cent of firms in the built and natural environment industry were succeeding in their client experience strategies, compared to 46 per cent of accounting and management consulting firms.
There were a few indicators showing gaps in the client experience journey for consulting engineering firms. First: these firms did not prioritise client experience like other sectors did.
Four in five (80 per cent) accounting and management consulting firms rated client experience as "extremely important" to the success of their firms. However, only three in five (63 per cent) of built and natural environment consulting firms rated client experience as important.
Consulting engineering firms also appear less likely to measure and account for client satisfaction via metrics like Net Promoter Scores (NPS). Almost half (43 per cent) of accounting and management consulting firms were using NPS compared to just 21 per cent of built and natural environment consulting firms.
Why consulting engineering firms should care about client experience
The below chart summarises one of the most important reasons consulting engineering firms should care more about client experience. Namely: the likelihood of buying additional services more than triples when client experience is rated excellent compared with when it's rated poor.
In short, if clients have a positive experience with your firm, they are more likely to want to deal with you again and again.
We see big opportunities for those firms who see this data as an opportunity to differentiate. Savvy firms recognise that they must differentiate not just what they do but also how they do it.
In your firm, what are you doing to improve the experience of clients from "good" or "poor" to "excellent"? Our research shows that clients who rate their experience as excellent are more likely to:
Buy more services from you,
Pay a premium price,
Refer you to others – free marketing!
Where can consulting engineers focus to improve?
It is perhaps unsurprising to learn that – as the graph below shows – the most important part of a client journey is often seen as the outcome/deliverable phase. As this chart shows, client experience clearly worsens after the project is delivered. All three professions fall away during the "ongoing relationship" phase – but clients of consulting engineering firms drop off fastest.
They also come from a considerably lower starting point, namely a rating of 7.2 in the first three phases, compared to 8.2 and 8.6 in the other two professions.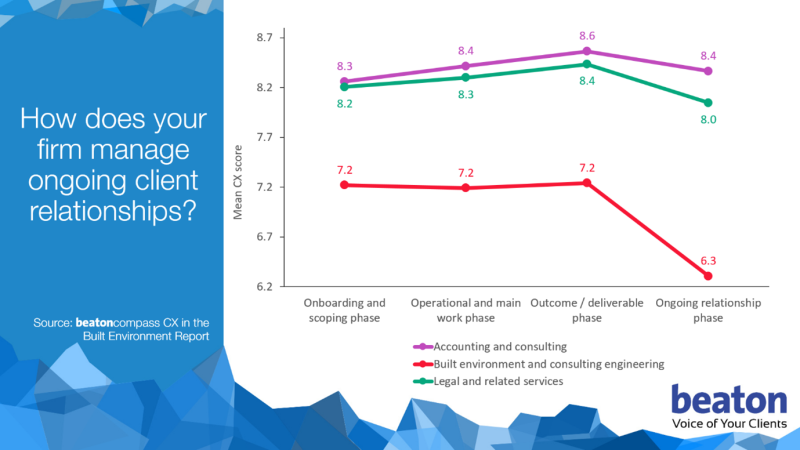 Our research found emotions also play a statistically significant role in predicting client experience. Consulting engineers can do a lot to improve the emotional experience clients have through:
Proactive / responsive communication
Providing ideas and updates affecting your business and industry
Introducing other business experts to assist you.
On every one of the above attributes, our data shows law and accounting exceed consulting engineering firms by 15 percentage points or more. This shows what's achievable – and the size of the prize available for improving client experience.
What can consulting engineering firms do right now to improve client experience?
Based on my experience, here are some suggestions:
Be clear and transparent about who is accountable for ongoing management of key client relationships,
Give those individuals the time, leadership support, mindset and skills to manage those relationships, so that the equivalent red line for your firm is not dipping south like the one in the chart above,
Remain in frequent and regular contact with key clients so they feel important and supported,
Look to help in any way possible so they feel you are invested in them.
Don't be the "fair-weather friend' who will be ready to meet once the client is ready to spend money again.
More than service, client experience or CX looks at the whole client journey, including the times where there are no active projects.
Written by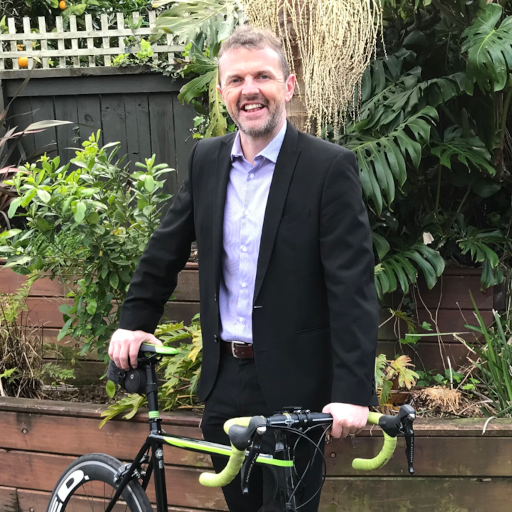 Jon's passion is in helping Beaton's clients deliver profitable growth for their businesses. He is a recognised client specialist and adviser to professional services and works with a wide range of businesses from small to large. His focus is helping his clients to delight their clients. Jon's clients describe him as relaxed and easy to work with, highly collaborative and very outcomes focused.
Full bio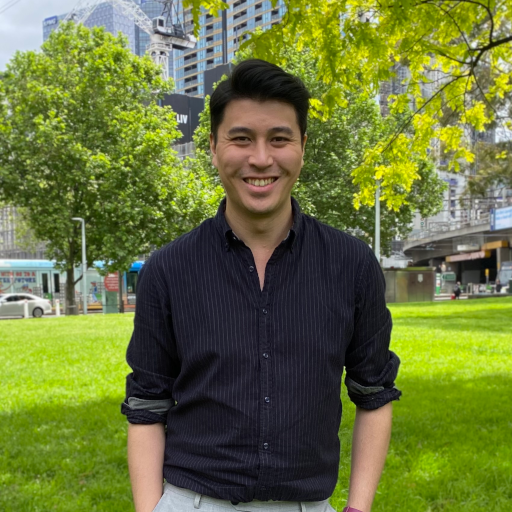 Shanan works with Beaton's clients and translates the experiences of their clients into actionable insights. He acts as the interface between client data and professional services firms' strategic objectives.
Full bio